Lake Perris, California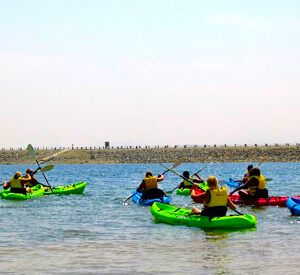 The day use areas of Lake Perris offer almost 300 picnic sites with tables and grilling features. Many of the tables are sheltered from the heat of the summer with shade ramadas, and almost all have a beautiful view of the lake. The most popular areas are near our two swim areas at Moreno and Perris Beach. Both beaches have large grass areas (no longer watered) adjacent to the sand for playing games, sunbathing, and having family picnics.
Swimming
Lake Perris has two designated swim areas: Moreno Beach that is accessed through lots 8,9,10 and Perris Beach that is accessed through lots 1 through 4. Lifeguards are on duty in those areas daily during the summer and on weekends in spring and fall. There are changing rooms, showers and restrooms located behind towers 2 and 4. There are picnic areas that are also near the beach.
Hiking, Bicycling, Horseback Riding
There is a nine-mile hiking and bicycling trail around the lake. It is paved except for a short stretch at the south end of the dam. A hiking trail leads to the scenic overlook at Terri Peak. Interpretive panels near the campfire center tell the story of the area before Lake Perris was built. A horse trail circles the lake and goes on into the underdeveloped part of the recreation areas. Springtime riders find themselves in the midst of a colorful sea of wildflowers.
There is a day use horse camp area near the overnight horse campground. There is also extra equestrian day use available in the "Hunter's Parking Lot" area near the Group Campground with water available.
Rock Climbing
Big Rock is a popular Southern California climbing spot located within Lake Perris State Recreation Area in Riverside County. Big Rock is just that, a giant granite rock approximately 180 feet high. It hosts 34 recognized routes that range from a modest 4th class to a 5.10d with one A3 route. Although most routes are single pitch, or suitable for top rope, we have a couple of multi-pitch that take you to the upper level of the rock and several of the more challenging routes. It's popular with mostly beginning and intermediate climbers, but provides some aggressive opportunities for that more advanced climber looking for a quick urban workout.