Hadley Fruit Orchards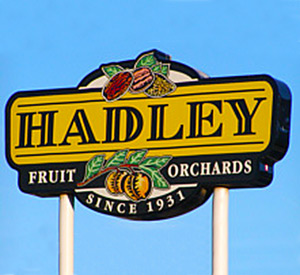 Hadley Fruit Orchards was founded by Paul and Peggy Hadley in 1931 in Banning, California. Their neighbors were the Morongo Band of Mission Indians who inhabited the Palm Springs area. According to members of the Morongo tribe, Paul Hadley often provided tribal members with fruits and dates, fostering a rapport with Hadley Fruit Orchards that remains to this day.
Hadley Fruit Orchards is a wonderful place to stop for top quality dates, dried fruits, nuts and gifts. This roadside California attraction is a landmark that has seen millions of visitors. Built in 1951 after a Palm Springs area fire burned down the original location, Hadley's is known worldwide for their commitment to their customers.
Hadley Fruit Orchard has increased its product line, offering butters, jams, their famous trail mix, cereals, candies, baked goods, vitamins, and their own selection of wine from organically grown grapes. Now a multi-million dollar retail and catalog outlet, it's a great place to visit to experience where it all started.